Live Shows at SF Sketchfest /
Jan 16th, 2011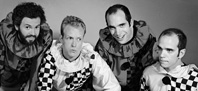 See Kasper Hauser live at SF Sketchfest!:
Monday, Jan. 17: 10 Year Reunion Show (with the six original groups from the first SF Sketchfest).
Wednesday, Jan. 19. Kasper Hauser Time Machine. An hourlong Kasper Hauser set, featuring classic sketches from the past decade.
Sat., Jan. 22: Kasper Hauser on the Sound of Young America Live.